How Hailey Bieber's make-up artist creates a flawless base
5 min read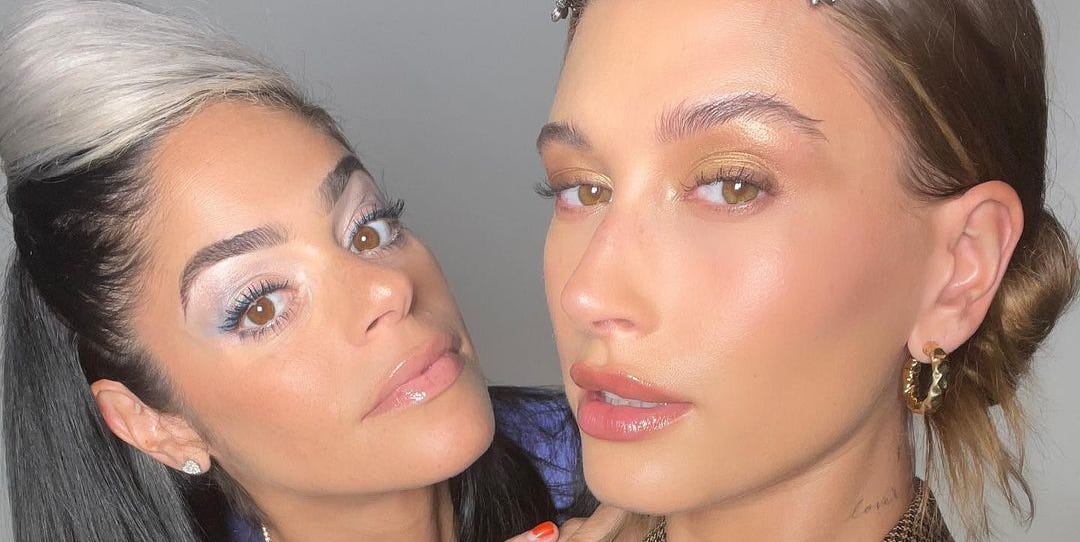 Somehow, summer is almost over. And as the seasons begin to change, we're craving a make-up refresh: a back-to-school shift that'll make us look polished and together as we step back into the office, and into the world.
Of course, employing the right products is the first crucial step in creating a winning make-up look (and there are plenty of stellar foundations, mascaras and skin-warming blushes to delve into this season), but success also hinges on your application techniques.
Thankfully, Denika Bedrossian is here to help. The acclaimed make-up artist, Bareminerals global ambassador and woman behind Hailey Bieber's gram-dominating make-up looks knows exactly how to create a seamless base. Here, see the six techniques she always uses.
Rethink your tools
First things first, you're going to need the right tools for the job – and your traditional flat foundation brush may not factor in. Bedrossian generally prefers to use her fingers to apply lighter foundations, and a brush with higher coverage formulations.
"When I'm using a foundation like our Original Liquid Mineral Foundation, I like to use my fingers because I think the warmth of skin-to-skin makes a big difference with the application," she says. "I always like to warm it up a little bit in my hand, put a couple of dots on the face and kind of skim it through and press it in really well. When you press it, it sets into the skin rather than just sitting on the surface – that's really important when you're doing foundation with your fingers."
For foundations that work better with a brush, the trick is to stipple, rather than swipe. "Using a flatter brush is not my favourite – you get more lines on the face," says Bedrossian. "The trick to getting that soft finish that really looks like skin is to use something that mimics the effect of an airbrush. I like to use a dense, fluffy brush: something that has the ability to buff and blend at the same time."
Tap and bounce
The wrong application method can make even the best concealer look cakey. Bedrossian's solution? Ditch the brush. "With concealer, warm it up with your fingers before applying and tap it really gently into the skin. I like to use my middle or my ring finger, because they're the most gentle, and bounce it on the skin to blend it in."
This content is imported from Instagram. You may be able to find the same content in another format, or you may be able to find more information, at their web site.
Set strategically
Bedrossian thinks everyone should use a setting powder – but your skin type and desired finish will depend on how you approach this product.
Really, it depends on where your skin tends to feel oily. "If you're oily just in your T zone, then that should be your primary focus," she explains. "If you like to touch up your powder throughout the day, stick to a translucent formula, rather than a pigmented one," she says, explaining that "you don't want to keep adding colour on top of colour."
Layer correctly
What should come first: concealer or foundation? As Bedrossian explains, the answer depends on your chosen formulas. "If you're using a powder foundation, I would always put concealer on first. It's not good to put concealer over anything dry."
And if you're a liquid foundation loyalist, you have options. "Either works, but I love to put concealer on after, just so I can really see where I need to apply it: whether it's around the nose, the mouth, just under the eyes, or over any blemishes that weren't covered by the foundation."
Warm it up
Bedrossian's number-one tip when building up your base? Keep it warm. "The body creates so much of its own warmth, and when you're putting a liquid product on your face, using that warmth will help marry the product with your skin. I'm really big on warming up products before applying them on the face, so you don't have anything sitting on the skin rather than actually melting in and creating that second-skin finish."
This content is imported from Instagram. You may be able to find the same content in another format, or you may be able to find more information, at their web site.
Match your textures
There's a huge array of textures and finishes in each product category today, and dewy liquid bronzers and highlighters are having a moment in particular. To ensure your products all work harmoniously together, it's crucial to ensure they're compatible – and, as Bedrossian explains, things get tricky when you try to combine 'dry' and 'wet' products.
"I think that there is a way to put something moist on top of a powder – but you want to make sure that the powder is really blended in, and it's not sitting on top of the skin", she says. " If you're going to put something wet over the top, set it with a really sheer powder, just to make sure everything is locked in and won't move. And if you're putting a cream highlight on top of a powder, try dusting a little bit of a powder highlighter on top of it to really settle it in. It's a nice way to keep it on all day."
This content is created and maintained by a third party, and imported onto this page to help users provide their email addresses. You may be able to find more information about this and similar content at piano.io