The Best 10 Skincare Fridges for Chilling Your Skincare Staples
6 min read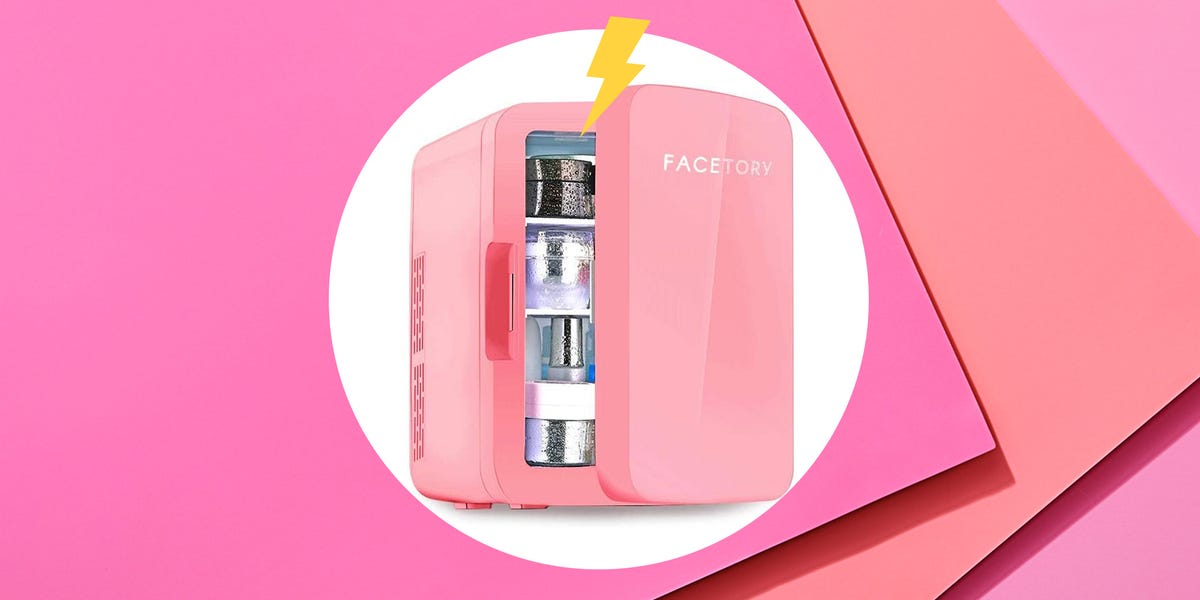 If you've scrolled through your favorite makeup artist's Instagram lately or watched a handful of TikTok beauty influencer videos, then a skincare fridge might already be on your radar. Typically countertop appliance-sized and stocked with a bevy of colorful bottles, these mini refrigerators certainly look photo-op ready but are they actually useful? As it turns out, the answer is yes: A skincare fridge can be an easy way to store—and even extend the life of—some of your favorite products.
When it comes to skincare, "there are some formulations that have relatively short shelf lives, and for some of them, refrigeration can help prolong the life," says Dr. Hadley King, a New York-based board-certified dermatologist and clinical instructor of dermatology at the Weill Medical College of Cornell University. "Ingredients that fall under the 'short shelf life' category include vitamin C, retinol, probiotics, and some combinations of benzoyl peroxide." In addition, refrigeration can also help extend the lifespan of skincare that doesn't contain preservatives, says King, which is sometimes true of products labeled as "clean" or "natural."
Skincare fridges can make your products work even better.
Beyond just extending freshness, refrigeration can also make the potential effects of certain products more pronounced, albeit temporarily. "Any skincare product that claims to be soothing, cooling, and anti-inflammatory may be more soothing and cooling if stored in a refrigerator," says King. "For example, cooling face masks and anti-itch lotions with menthol may feel more soothing if they are cooled." The same can be true for tools like jade rollers or products with metal-tip applicators, which you might find on an eye gel, for example, that's intended to decrease puffiness. "When chilled, they can offer a cooling and soothing sensation and constrict blood vessels, which can decrease puffiness and redness," King adds.
If you use these types of products frequently or just treat self-care like a sport, King says you might benefit from the convenience a skincare fridge offers (though do know you can also dedicate a spare drawer or shelf in your kitchen fridge to beauty items, too, if you have the space). As you look for a model, try to find something more micro than mini-sized to sit on your vanity, dresser, or counter in your bedroom or bathroom without taking up too much space.
Skincare fridges should be between 45 and 50 degrees Fahrenheit.
Most importantly, make sure your fridge can be set to a temperature between 45 and 50 degrees Fahrenheit. "This temperature range maintains ideal consistency of products while reducing risk of growth of bacteria, mold, and yeast and decreasing risk of accelerated deactivation of active ingredients and preservatives," says King. That said, anything colder could alter the consistency and texture of your products permanently, making them thicker and difficult to apply. Generally speaking, clay- and oil-based products and creams shouldn't be refrigerated at all for this reason.
Ready to find the best beauty fridge for your skincare stash? Start reaping the benefits of chilling your products with these 10 standout models.
1
Cooluli Skincare Mini Fridge
Cooluli
amazon.com
$49.99
This model packs a lot of function into its 4-liter footprint with a removable interior shelf that can accommodate different bottle sizes and a handy door pocket, which provides the perfect spot for masks and jade rollers. Pick from a handful of fun colors to find something that'll match your decor, and take this model on the road as needed with the included USB cable and any compatible power brick (not included).
2
Chefman Mini Portable Mirror Personal Fridge in Pink
If you're looking for something simple, this budget basic from Chefman can't be beat. The entire exterior front door is mirrored, which makes product application super easy, and at roughly 9 inches by 8 inches by 10 inches, it's one of the smallest designs on the market for those short on space.
3
Frigidaire Red Mini Retro Fridge
FRIGIDAIRE
nordstromrack.com
$39.97
From its metal-look hinges and door handle to the peek-a-boo window and script logo, classic design fans will appreciate the vintage vibes of this tiny red Frigidaire. Beyond its good looks, this model also cools up to 20 degrees Fahrenheit below ambient room temperature, so you can keep everything chilled and at the ready for your next marathon self-care sesh.
4
Vanity Planet Fria Mini Beauty Refrigerator
Vanity Planet
urbanoutfitters.com
$100.00
Can't resist the visual eye candy of a well-stocked fridge? Then this minimalist glass-front design will provide you with plenty of opportunity to turn your beauty loot into an artful display. Arrange your serums, essences, and mists by size and color, moving the shelves to create a setup exactly suited to your liking.
5
FaceTory Portable Coral Beauty Fridge
FACETORY
amazon.com
$89.21
Calling all serious skincare junkies: This one's for you! Boasting a whopping 10-liter capacity, the FaceTory Beauty Fridge offers roughly two times the interior space of other models on the market, meaning it'll accommodate even the largest product collections. Just note that with increased capacity can come extra condensation. You'll want to wipe up any pooling water or droplets if you see them, so your machine keeps running efficiently and effectively.
6
Flawless by Finishing Touch Flawless Beauty Fridge
Flawless by Finishing Touch
ulta.com
$59.99
Fans of the Flawless line of tools and hair removal devices might want to give this little fridge a try. It's a good option for cooling a tightly curated stash of key products and looks extra glam, thanks to its white finish and rose gold accents. 
7
Spa Sciences Skincare Beauty Fridge
SPA SCIENCES
amazon.com
$44.99
Spa Sciences's particular model shows a lot of range when it comes to temperature control. Like many of the other machines featured here, it has a warming capacity in addition to its cooling function but can be set to hit anywhere from 40 to 150 degrees Fahrenheit. If you want to hone in on different temperatures on both ends of the spectrum from time to time, consider this your best bet for the price.
8
Koolatron Portable Cosmetics Fridge with LED Lighted Mirror
Koolatron
target.com
$74.99
For a step up from the mirrored Chefman featured above, look no further than Koolatron's portable cosmetic fridge. At 6-liter capacity, it's a medium-sized model that ekes out a few extra inches to accommodate larger bottles, reusable gel masks, or even chilled face towels for freshening up post at-home workout. The mirrored exterior door is also framed by an LED light, which is dimmable through the front touch button.
9
Net-A-Porter x The Beauty Fridge
NET-A-PORTER
net-a-porter.com
$160.00
Another 10-liter model, Net-A-Porter's collab with Australian brand, The Beauty Fridge, is a splurge for sure but one that comes with more space and more luxury, from its premium tempered glass door to its fans that run at 28db, which are among the quietest in the skincare fridge category. You certainly won't have to worry about this sleek model disturbing your beauty sleep!
10
The Beauty Spy Cool Skin Mini Fridge
The Beauty Spy
thebeautyspy.com
$69.00
This little guy's another good on-the-go option, since it weighs roughly four pounds and has a top handle for easy transport. It also comes with cute stickers you can use to personalize the front of the fridge, if you're into that kind of thing. 
This content is created and maintained by a third party, and imported onto this page to help users provide their email addresses. You may be able to find more information about this and similar content at piano.io